Nitrogen Making Machine For Food Preservation
Nitrogen Making Machine For Food Preservation
Type: molecular sieve

Extraction gas type: nitrogen

Extraction gas state: gaseous state

Application areas: chemical, petroleum, medical, pharmaceutical, food

Principle of action: pressure swing adsorption

Dimensions: 1500 × 1300 × 2000 (mm)

Weight: 2000 (kg)

Product Type: Brand new

Processing capacity: 20,100,300,500,1000 (m3/h)

Specifications: PG-400, PG-30, PG-300, PG-100, PG-1000, PG-500
  Main parameters of food fresh-keeping nitrogen making machine
  Purity: 95%-99.9995%
  Gas production: 0.1 cubic meters - 2000 cubic meters per hour
  Size: Custom
  Power consumption: 1W-100KW
  Gas grade: industrial grade
  Material: carbon steel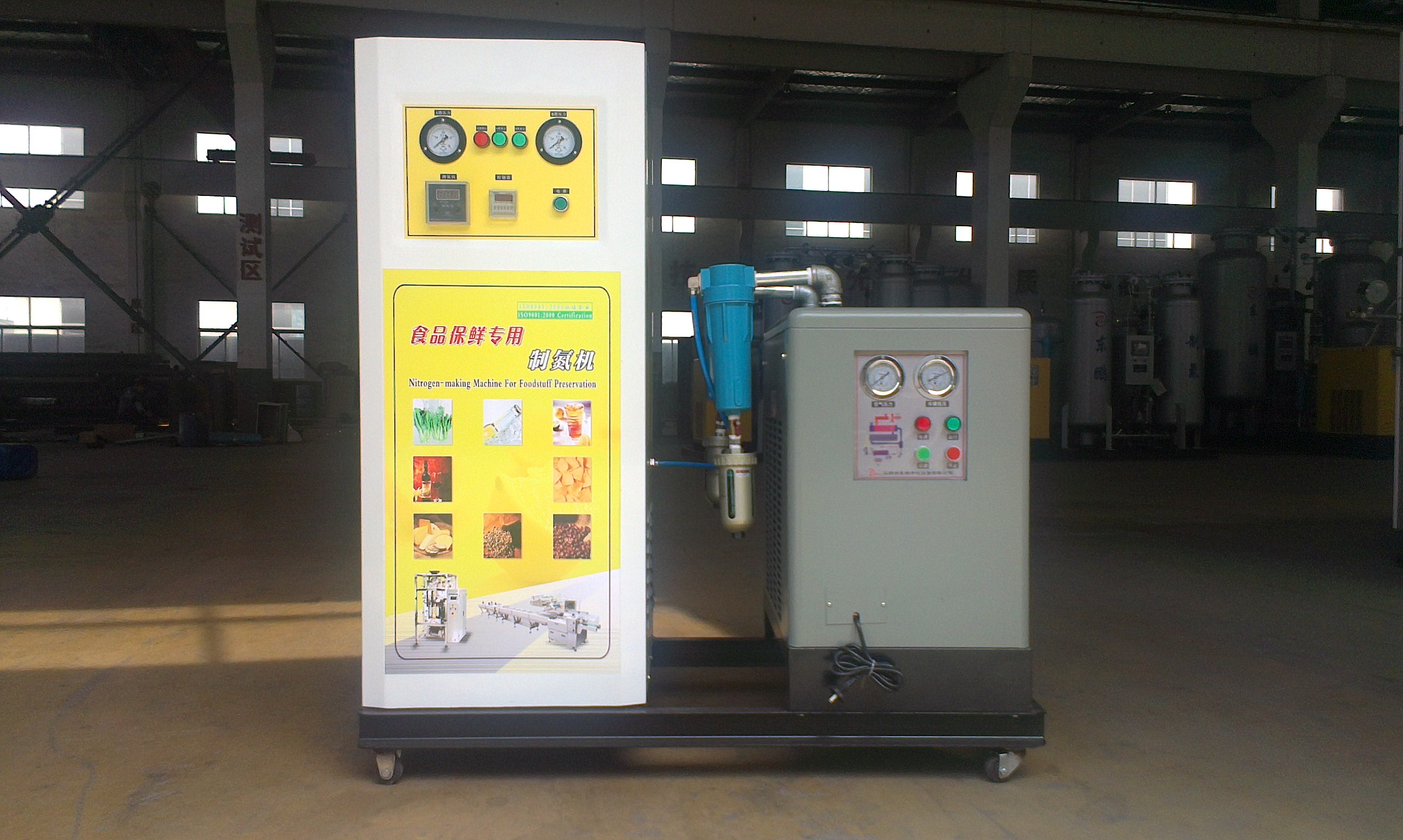 Food fresh-keepingnitrogen making machine process description
1. After the air is compressed by the air compressor, it enters the air storage tank and flows into the air pretreatment device after being stabilized;
  2. The air pretreatment device consists of three filters with different precisions and one activated carbon deoiling tank. The compressed air passes through the freeze dryer and the filter to filter the water, oil and dust from coarse to fine, wherein the water drops to a pressure dew point of 2 to 10 ° C, the oil drops to 0.001 ppm, and the dust drops to 0.01 um;
  3. The purified air enters thenitrogen making machine mainframe and is automatically switched by the eight pneumatic valves on the main engine. The two adsorption towers on the main engine alternately adsorb and desorb, so that most of the nitrogen and a small amount of oxygen in the air flowing into the main engine The separation is carried out, and the oxygen-enriched air is emptied, the nitrogen is enriched at the top of the column, and is transported by the pipeline to the nitrogen buffer tank, and enters the gas point after passing through the flow meter.
  4.nitrogen making machine adopts German OW technology, and nitrogen production equipment is exported to German industry. The reliability is available to customers.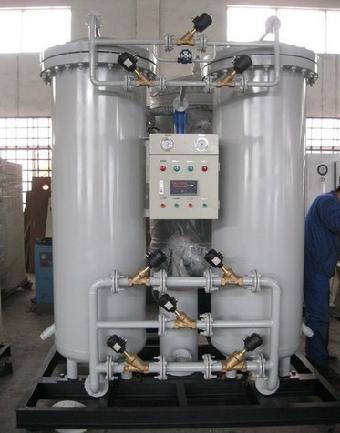 Product fresh-keepingnitrogen making machine technical characteristics
1. It only needs to provide oil-free or micro-oil compressed air and start the power supply to start the production of nitrogen. The purity of nitrogen can be adjusted by adjusting the nitrogen flow rate, and the adjustment range is 95%-99.999%.
  2. The complete set of equipment is automatically operated and equipped with differential pressure type energy-saving control to ensure that the whole set of nitrogen-making equipment operates in an economical and energy-saving state.
  3. The nitrogen analyzer is continuously tested online, and the imported probe is guaranteed for three years.
  4. It is equipped with the refrigeration degreasing and dehydration activated carbon filter device produced by Paige Company. The device has a large cooling capacity, a large filtering range and high precision.
  5. equipped with 4 automatic drain valves, to ensure that thenitrogen making machine mainframe can run stably for a long time under severe working conditions.
  6. The whole machine has fine workmanship, beautiful appearance and durability.
Gas Class: Industrial Class
| | | | | | | | |
| --- | --- | --- | --- | --- | --- | --- | --- |
| MODEL | N2 Purity % | N2 capacity Nm3/h | Air Consumption m³/min | inlet(DN mm) | outlet(DN mm) | Air purification system | Dimension(cm) (L×W×H) |
| PG99.9-5 | 99.90% | 5 | 0.35 | 25 | 15 | BA-1 | 100×90×200 |
| PG99.9-10 | 99.90% | 10 | 0.7 | 25 | 15 | BA-1 | 100×90×200 |
| PG99.9-15 | 99.90% | 15 | 1.04 | 25 | 15 | BA-1 | 100×90×200 |
| PG99.9-20 | 99.90% | 20 | 1.37 | 25 | 15 | BA-1 | 100×90×200 |
| PG99.9-25 | 99.90% | 25 | 1.72 | 25 | 15 | BA-1 | 100×90×200 |
| PG99.9-30 | 99.90% | 30 | 2.07 | 25 | 15 | BA-2 | 150×100×210 |
| PG99.9-40 | 99.90% | 40 | 2.77 | 25 | 20 | BA-2 | 150×100×220 |
| PG99.9-50 | 99.90% | 50 | 3.45 | 32 | 20 | BA-2 | 150×100×220 |
| PG99.9-60 | 99.90% | 60 | 4.14 | 32 | 20 | BA-3 | 170×140×240 |
| PG99.9-70 | 99.90% | 70 | 4.84 | 32 | 20 | BA-3 | 180×140×240 |
| PG99.9-80 | 99.90% | 80 | 5.5 | 40 | 20 | BA-3 | 180×140×240 |
| PG99.9-100 | 99.90% | 100 | 6.91 | 40 | 25 | BA-6 | 190×150×250 |
| PG99.9-120 | 99.90% | 120 | 8.29 | 40 | 25 | BA-6 | 200×150×270 |
| PG99.9-150 | 99.90% | 150 | 10.36 | 50 | 32 | BA-6 | 400×80×260 |
| PG99.9-180 | 99.90% | 180 | 12.43 | 50 | 32 | BA-10 | 470×100×310 |
| PG99.9-200 | 99.90% | 200 | 13.8 | 50 | 32 | BA-10 | 470×100×310 |
| PG99.9-250 | 99.90% | 250 | 17.27 | 50 | 40 | BA-10 | 470×100×310 |
| PG99.9-300 | 99.90% | 300 | 20.71 | 50 | 40 | BA-16 | 500×100×320 |
| PG99.9-350 | 99.90% | 350 | 24.2 | 65 | 40 | BA-16 | 540×120×320 |
| PG99.9-400 | 99.90% | 400 | 27.62 | 65 | 50 | BA-16 | 540×120×330 |
| PG99.9-450 | 99.90% | 450 | 31.07 | 65 | 50 | BA-20 | 570×120×330 |
| PG99.9-500 | 99.90% | 500 | 34.46 | 65 | 50 | BA-20 | 600×140×330 |
| PG99.9-600 | 99.90% | 600 | 41.43 | 80 | 50 | BA-30 | 620×140×330 |
| PG99.9-800 | 99.90% | 800 | 55.17 | 80 | 65 | BA-40 | 680×160×330 |
| PG99.9-1000 | 99.90% | 1000 | 69.1 | 80 | 65 | BA-40 | 750×160×450 |
| PG99.9-1200 | 99.90% | 1200 | 82.85 | 100 | 80 | BA-50 | 850×220×380 |
| PG99.9-1500 | 99.90% | 1500 | 103.56 | 100 | 80 | BA-60 | 900×220×400 |
| PG99.9-2000 | 99.90% | 2000 | 138.02 | 125 | 100 | BA-80 | 1300×240×450 |