Hanbell PS Series Screw Vacuum Pump
Hanbell PS Series Screw Vacuum Pump
The screw vacuum pump is a pumping device that uses a pair of screws to perform the suction and exhaust functions generated by synchronous high-speed reverse rotation in the pump casing. It is an updated product of the oil-sealed vacuum pump, which can remove a large amount of water vapor and A small amount of dust gas is widely used in domestic pharmaceutical, chemical, and semiconductor industries where high requirements for clean vacuum are required.
Advantages of screw vacuum pump
Screw vacuum pump is a non-contact dry pump. It is an ideal pump type in the early 1990s. It has a wide pumping speed range, simple and compact structure, no friction in the pumping cavity components, long life and low energy consumption. The advantages of oil-free pollution are widely used.
The two screws are corrected by fine dynamic balance, supported by bearings, installed in the pump casing, and there is a certain gap between the screw and the screw. Therefore, when the pump is working, there is no friction between each other, the operation is stable, the noise is low, and the working chamber does not need lubrication. Oil, therefore, the screw vacuum pump can remove gas containing a large amount of water vapor and a small amount of dust, the ultimate vacuum is higher, the power consumption is lower, energy saving, maintenance-free and the like.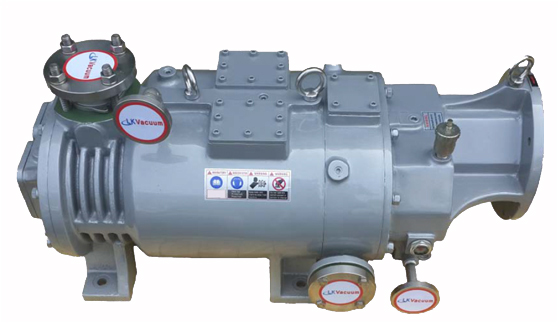 Screw vacuum pump structure
The drive shaft of the screw vacuum pump is connected to the active rotor, and the driven rotor is rotated by the synchronous gear. The cooling water passage is opened on the casing to cool the temperature of the rotor and the exhaust port, the lubricating gear of the synchronous gear and the bearing is lubricated, the bearing and the casing The interior is sealed by a seal to achieve an oil-free effect. The screw vacuum pump is similar in structure to the oil-free screw compressor in sealing and lubricating. Generally, the exhaust end of the vacuum pump uses a mechanical seal, and the intake side usually uses a double-lip seal.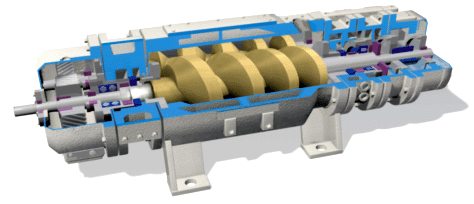 In the transmission mode, the current universal is a direct-connected motor, which is connected to the rotor by a coupling, and is rarely driven by a belt or a transmission chain. Because the pitch screw pump has no internal compression process, the exhaust temperature is very high. If the cooling effect is not good, the rotor and the casing will be deformed, which will affect the pumping effect. Cooling the casing is an indispensable part. Water cooling is the most common method. The cooling water can be passed through the casing body and the outside of the bearing to cool the casing and then cool the rotor.